Changes are a part of life. I'm going to post some updates that show how much life can change in a brief amount of time. But - I must begin by saying, that one thing that hasn't changed is that fact that I still don't update the blog as frequently as I should (or perhaps could).
Maturing Changes:
Since my last post, several milestones have been reached. Laura turned 11, Carol and I celebrated 13 years of marriage, Gardner turned 2, John turned 7, I turned 36, and Grant has turned 9. I'm not leaving out Joel, Josiah, and Kara - they just have not had birthdays recently.
Laura
- she has matured into a young lady. I'm so proud of her growth as a Christian and as a young lady. Since Christmas, Laura had been saving her money in order to purchase a Kindle e-reader; her birthday gifts provided enough money to purchase one. She reads as much as everyone else in the family.
Anniversary
- 13 years of marriage to the best wife I could imagine. The last year has seen us make family changes that have deepened our relationship tremendously; I couldn't be happier. (F.Y.I. - the 16th of this month is the 14th anniversary of our engagement - it is appropriately
sweetest day
.)
Gardner
- two years old and LOTS of fun. His vocabulary has blossomed, he loves trucks, still takes good naps, and has finally matured to the point that we can let him outside without a fear that he will end up in the street. He wants to be like the older kids - especially at the table when it comes to serving himself.
John
- is now a very adept reader. His energy has not diminished, it is just channeled into more things than just playing. He still is "jolly!" He has endured a black eye, a lump and gash on his forehead, and multiple bruises, scrapes and cuts this summer - so some things have not changed for him. (The black eye happened during a rough housing session that Uncle Michael was supposed to be monitoring).
I'm 36 . . . . don't know what to say. . .
Grant
- has given us reason to be pleased with his maturity. He has learned some good lessons (some easy and some not) in the last several months, but they are all helping to develop him into a striking young man.
Minor Change:
We have nearly finished many of the construction projects at the church (a few still remain). However, we did paint and rotate the auditorium. We hosted an anniversary service in July along with an open house for the community and other churches to see all of the things that have been done to the building. There is a report on the AIBCI website that can be seen here -
http://www.aibci.org/files/Grace_Baptist_Church_in_Paxton.pdf
The auditorium went from this:
Moderate Change:
I have started working a part-time job. I'm always careful to assert that this church has been very generous in providing for our needs; however, with 7 growing children, we just needed more income. I'm driving either a shuttle van or a coach bus to Chicago from the University of Illinois campus three days a week. I started in April with just the van, and then after getting a CDL, began driving the bus. I have really enjoyed the job and am very thankful for the help that it has provided for our family. If I could have created a part-time job that enhanced my pastoring, I don't think I could have done better.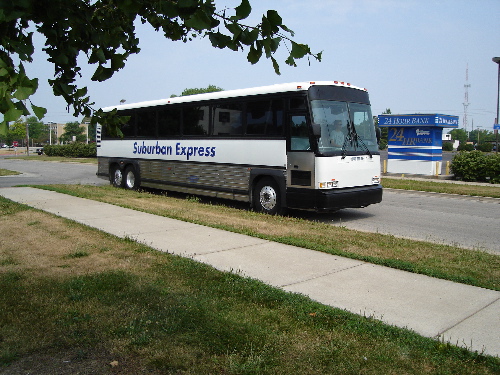 Major Change:
After 7 years of home education, we have put our children in the local school system (we still are very involved in their education). This decision was the result of nearly a year of prayer and deliberation. I am not going to detail all of our reasons now (I will write much more on the decision at some point in the future), but will suffice to say that we were absolutely convinced that this was the right decision for our family and have been more than pleased with the results as they near the end of the first quarter. Joel is in 7th grade, Laura is in 6th, Grant is in 3rd, John is in 2nd and Josiah is in Kindergarten. (Kara and Gardner have adjusted to being home without the other kids presence.)
Well, that's all for now. I got this picture in Alton early in the summer; they are looking over the Mississippi. Joel, Laura, Grant, John, Josiah, Kara, and Gardner.